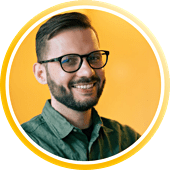 Michael Conrad
Machine Learning Engineer
I'm Michael and this is the beginning of the sentence you just finished reading (just kidding, haha!). Working on Artificial Intelligence gives me a lot of satisfaction (especially with the people I met here!).

If I had to describe myself in one word... I would choose one of these ("The Pragmatic"). I love data! (Sounds nerdy? Indeed!).

My passion: aviation... and uncontrolled (dis)ability to rhyme as well.


"With over 7+ years of experience within the field, Michael has proven why he is a highly valued asset for us and our clients" - André Ollesson, COO. 
"The senior consultant Michael from Artificial Collective have helped us better understand our customer segments! With the new scientific insights from our data, we can take data-driven decisions and significantly increase our profits!" - CEO, at a Fintech company